Discover, explore, and spend quality time on a romantic or family private boat trip for a few hours or more than a week – a yacht charter of the Algarve coast creates timeless moments and is the best way to see this stunning coastline. Read about the best locations, cruises, and companies to book your Algarve yacht charter adventure with!
Why you should discover the Algarve Coast on a yacht
The Algarve is a world-class boating destination, known for its golden sand beaches, rugged coastline, and breathtaking seascape. It is the sunniest region in Portugal and a must-see for anyone visiting this beautiful country.
Boat rental, such as a sailing boat or a catamaran, is the best option for discovering the Algarve coast. Whether cruising the coastline on a sailing boat or partying at sunset on a catamaran, you'll have the opportunity to explore secret beaches and hidden caves only accessible by boat.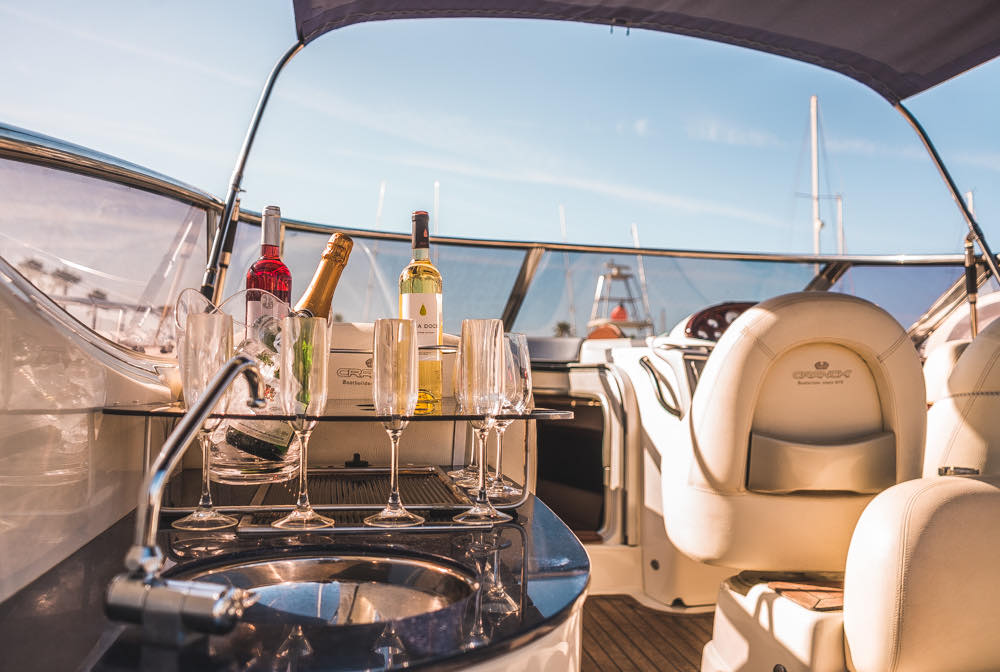 This article may contain compensated links. Please read the disclaimer for more info.
Types of Algarve Yacht Charters
Although it's possible to spend only a few hours aboard, yacht charters for multi-day trips are possible (some more than a week) with marinas and anchorages all along the long coastline so you're bound to have many timeless moments and amazing memories of your trip to Portugal.
As soon as you begin googling boat trips from Algarve towns, you'll find dozens of options. A yacht charter allows you to set your own course and have a private, romantic, or family experience without being packed into a boat with a few dozen people.
It is possible to rent a boat in the Algarve as a bareboat charter (catamarans and also sailboats). Bareboat charters are usually for smaller boats and if you have some sailing experience, your own boat is the ultimate in freedom!
5 places to visit in the Algarve on a boat charter
The Algarve coastline stretches for 200 kilometers and has more than 100 beaches. With so many places to visit, you will struggle to decide where to go! Below we cover the most beautiful parts to sail past.
Tip: With a self-chartered or private Algarve yacht charter, you can choose the "experience" and not just the "location," such as visiting nightlife hotspots, following the history of Portugal's maritime explorations, sailing, swimming, or wakeboarding on lakes, lagoons, or the ocean – it's your charter after all!
Sagres and Cape St. Vicent
At the heart of the Costa Vicentina Natural Park, you'll find Sagres, a historical village connected to the 15th-century Portuguese sailing explorations.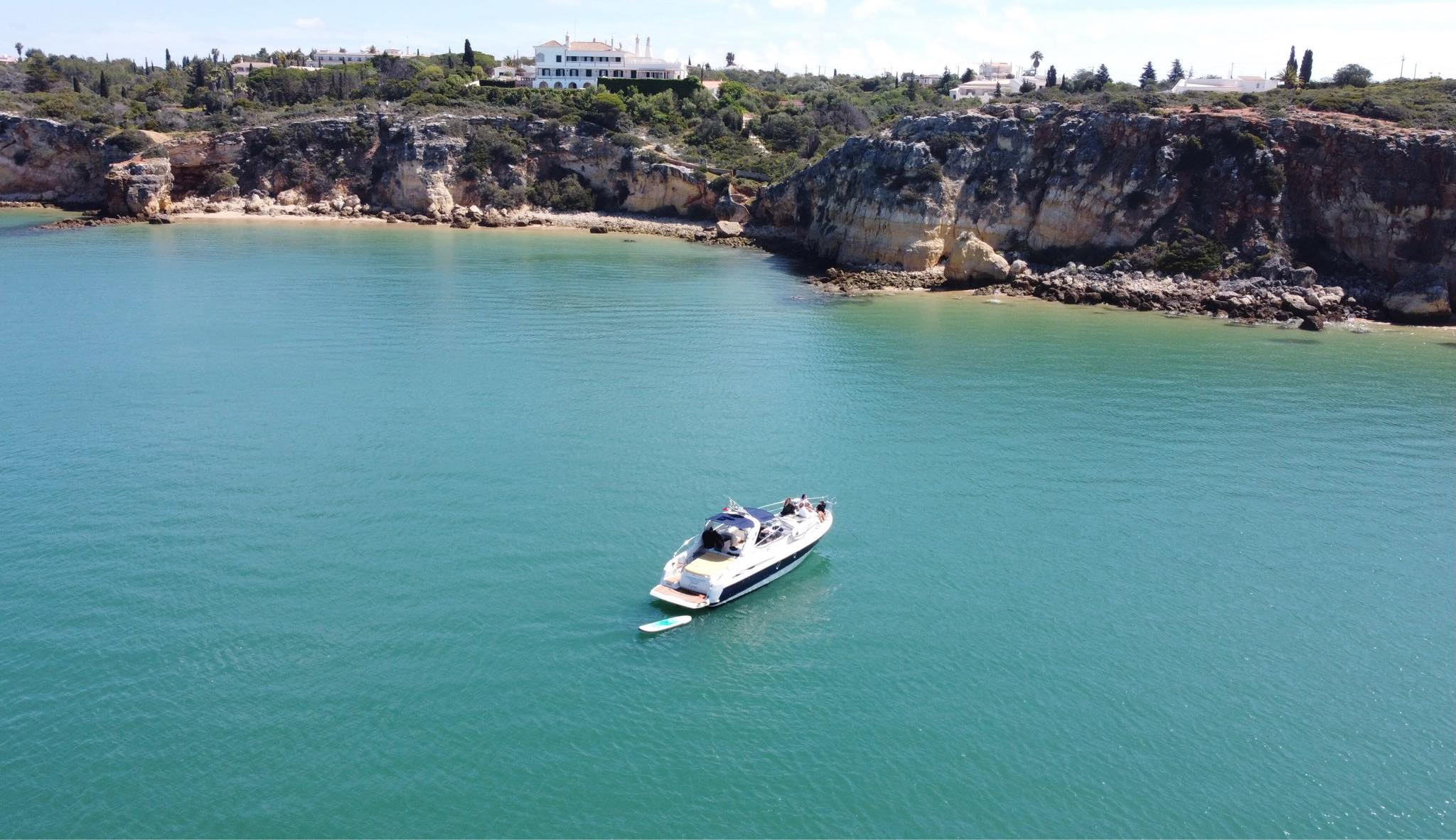 A few kilometers away, Cape St. Vincent emerges as the most south-western point in Europe. The rough sea and dark cliffs offer a unique seascape in the Algarve.
Lagos and Ponta da Piedade
Lagos has some of the most beautiful beaches in Portugal. Praia da Dona Ana and Camilo beach are amongst the most well-known.
However, you must visit Praia dos Estudantes and also Praia Grande, a secluded beach only accessible by boat. A few kilometers away you'll discover Meia Praia, a seemingly endless sandy beach that offers a stunning view of Lagos Bay.
Benagil Caves
Named after the picturesque fishing village of Benagil, the Benagil cave is considered one of the most beautiful caves in the world.
Besides being the biggest of its kind in the Algarve, it is also a natural landmark in Portugal. A hole in the dome-shaped roof of the cave lets the sunlight come through, creating a magical atmosphere. You can only reach the cave from the water. Once inside, visitors from all over the world are stunned by this sight.
Praia da Marinha
According to Conde Nast Traveller, CNN, and European Best Destinations, Praia da Marinha is the most beautiful beach in the world.
Along with the Benagil Cave, this is a landmark you must definitely visit. The "algares", natural sinkholes along the rugged shore, created these unique rock formations and helped shape the famous "M" rock. These natural arches at Praia da Marinha are a trademark image of the Algarve. The best way to see is to rent a sailboat.
Ria Formosa Natural Park
The coastline between Faro and the Spanish border forms part of the Ria Formosa Natural Park. It offers a pristine seascape of crystal-clear waters, sandy beaches, lakes, and lagoons.
This idyllic nature reserve provides the perfect scenery for a relaxing vacation in Portugal with its calm coastline and the lagoon which is great for kids and for swimming and kayaking or paddle boarding.
Yacht charters and luxury tours
Now that you know the main points of interest along the Algarve coastline, read on for our recommendations of the best Algarve yacht charter companies and luxury tours.
Karma Boat Cruises
Located in Lagos marina, this Algarve yacht company offers you the best experience at sea for a maximum number of 8 persons onboard. When you hire a yacht charter, it includes a crew member and a skipper.
This team will take you away so that you can admire the breathtaking views, swim, and feel the sun on your skin while lying on the deck of the yachts.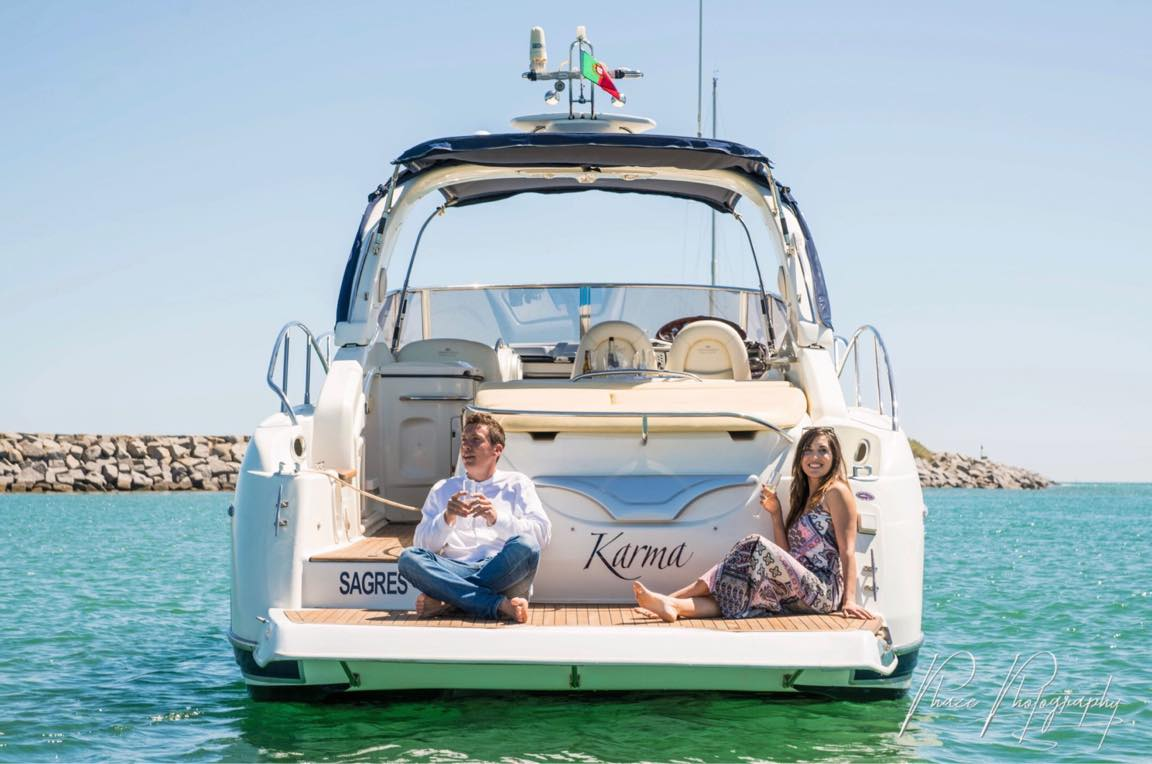 Karma Boat Cruise Full-day tour
On a full-day tour, Karma Boat Cruises will take you along the coastline between Sagres and Portimão. However, you are welcome to decide where to go. Regardless of your destination, you can admire how the Algarve seascape changes, relax, and enjoy a drink with its well-stocked bar that includes, of course, champagne!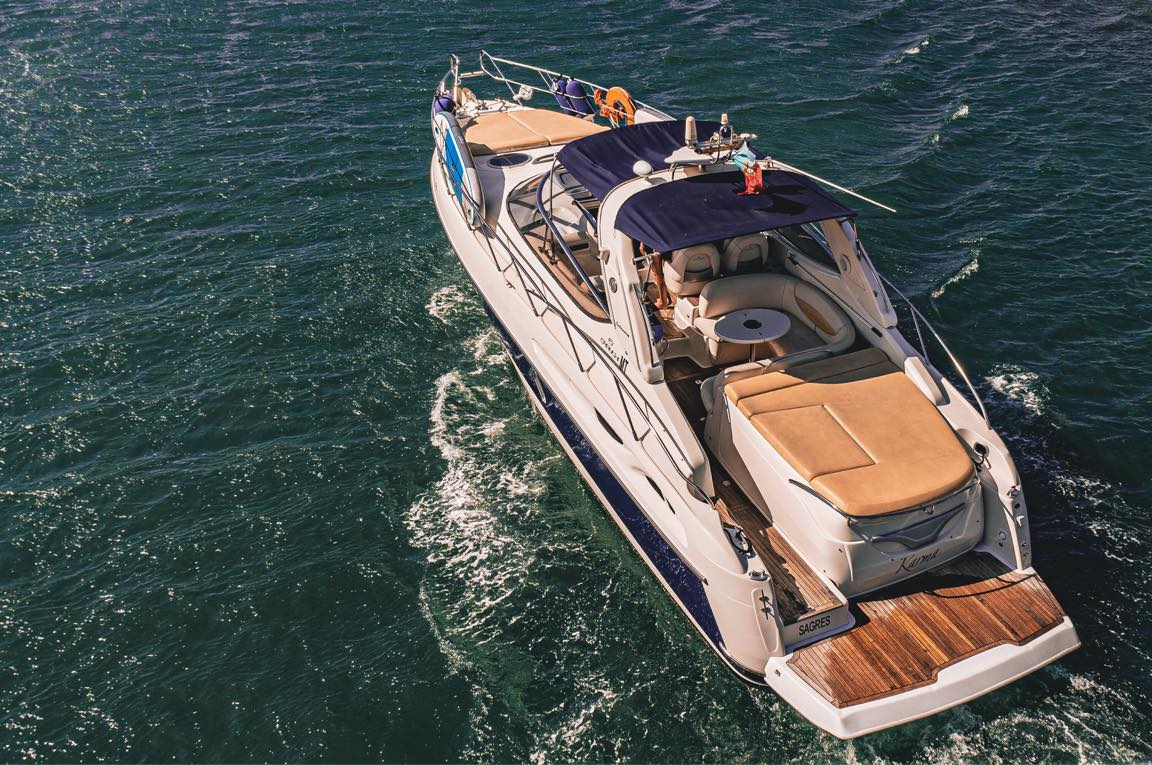 Since Karma Boat Cruises only provides tapas, you can bring your own lunch. Alternatively, you can request a stop at Ferragudo or Portimão and have lunch at one of the local restaurants. If you would like to have lunch on land, then we recommend checking for availability while booking the boat charter.
Before joining this tour, we recommend wearing beachwear, taking a beach towel, and sunscreen. Considering the boat size, we do not recommend this tour for wheelchair users or people with mobility issues. Additionally, this luxury cruise does not allow pets.
Half-day tour
If you feel a full day at sea is too much, then you can always choose a half-day trip.
This way you can decide if you prefer leaving the marina in the early morning or enjoying the sunset. Regardless of the time of the day, you will have the opportunity to enjoy local tapas and fresh cold drinks.
Karma Boat Cruises will take you to Burgau or Alvor in the morning. In the afternoon, the crew will take you along Lagos' stunning beaches and golden cliffs. You will have the opportunity to explore stunning snorkeling locations, even if you are a beginner.
Tip: I use a noodle or other floatation device when I am snorkeling in open water off a boat so that I don't drift too far or fast.
Great Karma Boat Cruises options:
Karma offers some great options. Here are three of them:
Lagos: Half-Day Morning Private Yacht Cruise Spend three and a half hours swimming, snorkeling, and visiting Ponta da Piedade and Alvor lagoon on a morning or an afternoon half-day private yacht cruise.
Lagos: Full-Day Private Yacht Charter 7 wonderful hours of swimming, snorkeling, and visiting Sagres or Portimao.
Lagos: 2-Hour Evening Champagne Cruise A two-hour cruise to sip champagne and watch the sun slowly set as you sail past Praia da Batata, Praia da Dona Ana, and Praia do Camilo.
Champagne Cruises Vilamoura
Vilamoura has the largest marina of any European country. Here you will find Champagne Cruises Vilamoura, a private boat hire company offering exclusive yacht charter services.
Their fleet includes the Sunseeker Portofino luxury yacht, available to accommodate large a group of friends, a whole family, or perhaps only a couple.
Luxury yacht cruise
Champagne Cruises Vilamoura offers you the opportunity to discover the Algarve coast on a yacht charter. This exclusive service allows you to decide where to go and what to visit. Your skipper will welcome you with a champagne glass and take you along the Algarve coastline to explore hidden coves and secluded beaches.
Since lunch and dinner are not included, you can ask your boat owner about local restaurants. They will gladly take you to shore so that you can enjoy traditional Algarve food.
Tip: Take a change of clothes, if the weather gets colder (and the wind gets up) while you are at sea, then you will be more comfortable after changing into something warmer.
Onboard the luxury yacht Atlantis II you will unravel the beautiful coast of Portugal. This yacht charter allows you to soak up the sun on the deck while enjoying a drink and admiring the stunning rock formations. We recommend this trip to couples looking for a romantic getaway or a group of friends eager to party.
Whether your departure Vilamoura in the morning or at sunset, you will be experiencing the most exclusive boat cruise.
3 Great Vilamoura Champagne Cruises options:
Portofino Luxury Yacht Charter (3 hours) Champagne, other alcoholic beverages, beautiful scenery, and use of the jet rib to explore the sea caves.
Vilamoura: Algarve Private Luxury Yacht Charter (3-7 hours) Choose how long to hire the São Lourenço II. Try new watersports like wakeboarding, waterskiing, or the wild ringo ride.
Quarteira: Atlantis Yacht Charter & Algarve Coast Tour (3 hours) The high-performance boat, The Atlantis, offers a three-hour sail but like all private charters, you can set your own times. Eat at restaurants only accessible by boats for lunch or dinner.
Easy Dream Charters
Easy Dream Charters, located in Albufeira marina, provides tailored luxury yacht tours along the Algarve coastline.
With this luxury boat rental company, you will have the opportunity to customize every detail of your Algarve adventure. The luxury inclusions include a lounge area equipped with a table and seating area, a refrigerator and ice machine, 2 solariums, and a platform at sea level.
Onboard the Sunseeker Predator 55 luxury yacht charter, the crew will take you through the calm and warm waters of the Algarve's southern coast. You can visit Benagil cave and sail past Alfazina lighthouse, but the itinerary is yours to create.
While you admire the seascape, you're to enjoy fine wines and Portuguese tapas.
Swimming and snorkeling off the boat are of course encouraged!
Although lunch is not included in the basic price, you can enjoy this meal onboard, prepared by a catering team. Alternatively, the charter crew will take you to shore so that you can have lunch in a local restaurant in Albufeira.
Easy Dream Charters – 4 Great Options
Algarve: Private Yachts Rental (2.5-7 hours)-Customize your itinerary upon a private yacht and enjoy cheese, charcuterie, and fruit. Snorkeling gear is included.
Full-Day Private Cruise in the Algarve Coast by Luxury Yacht (7 hours) – sail for miles along the rocky coastline of the Algarve, swimming, snorkeling, drinking fine wines, and using the two solariums.
Private Afternoon Yacht Cruise from Albufeira Marina (3 hours) – Leaving at 2 pm and heading west, you sail past the beaches and rock formations of Albufeira, Armação de Pêra, and then Lagoa.
Private Sunset Yacht Cruise from Albufeira Marina (2.5 hours) – Sail along Praia da Marinha (Pass By) and see the lovely chapel of Capela da Nossa Senhora da Rocha from the sea.
Vilamoura Water Sports Center
If you are looking for an afternoon filled with adrenaline and adventure, then Vilamoura Water Sports Center might be what you need!
With this boat rental company, you can hire a yacht or a speed boat to explore the rugged coastline and enjoy parasailing, jet skiing, wakeboarding, and water inflatables.
Onboard the speedboat you will not have access to food or drinks. As such, we recommend taking your own inside a waterproof bag.
Vilamoura Watersports Centre – Best tour option:
Luxury Yacht Rental with Crew – Enjoy a luxury yacht rental with full use of the jet rib boat for exploring the sea caves.