A Self Guided Day Trip to Sintra Castles 2022
If you are in Lisbon for a vacation, you must definitely visit Sintra! Sintra town is enchanting, looking as if it popped straight out of the pages of a fairy-tale with its green lush gardens, colorful palaces, and ancient castles. Including a map and visiting tips to the 5 main Sintra Castles, in this guide, you can also read about your ticket options for visiting Sintra and how to get around Sintra.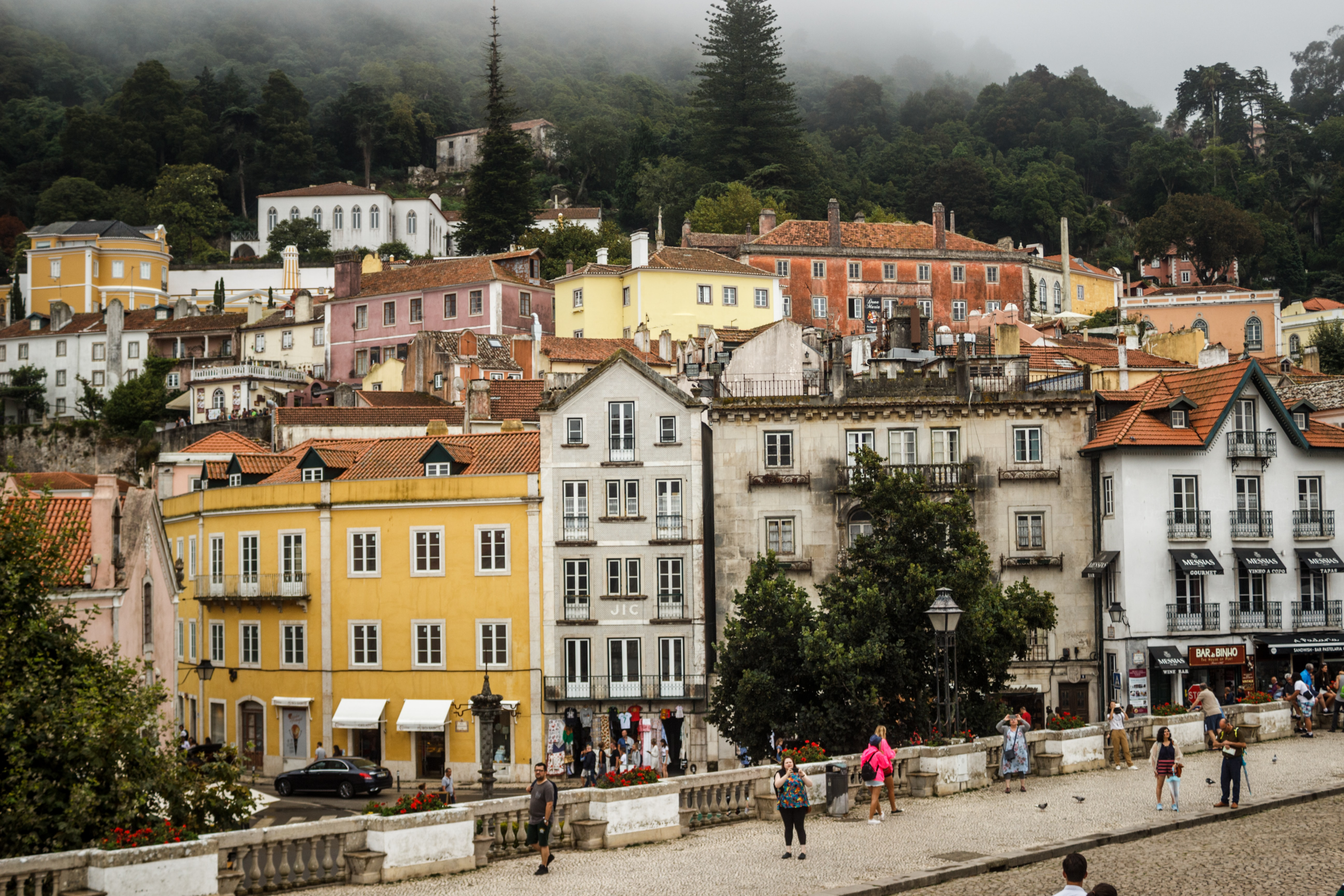 Sintra is so magical that the cultural landscape of Sintra was declared a UNESCO World Heritage Site. Lucky for you, the best of Sintra Portugal can be enjoyed in a single day trip and I've just the perfect Sintra day trip ready for you to follow!
How to Get to Sintra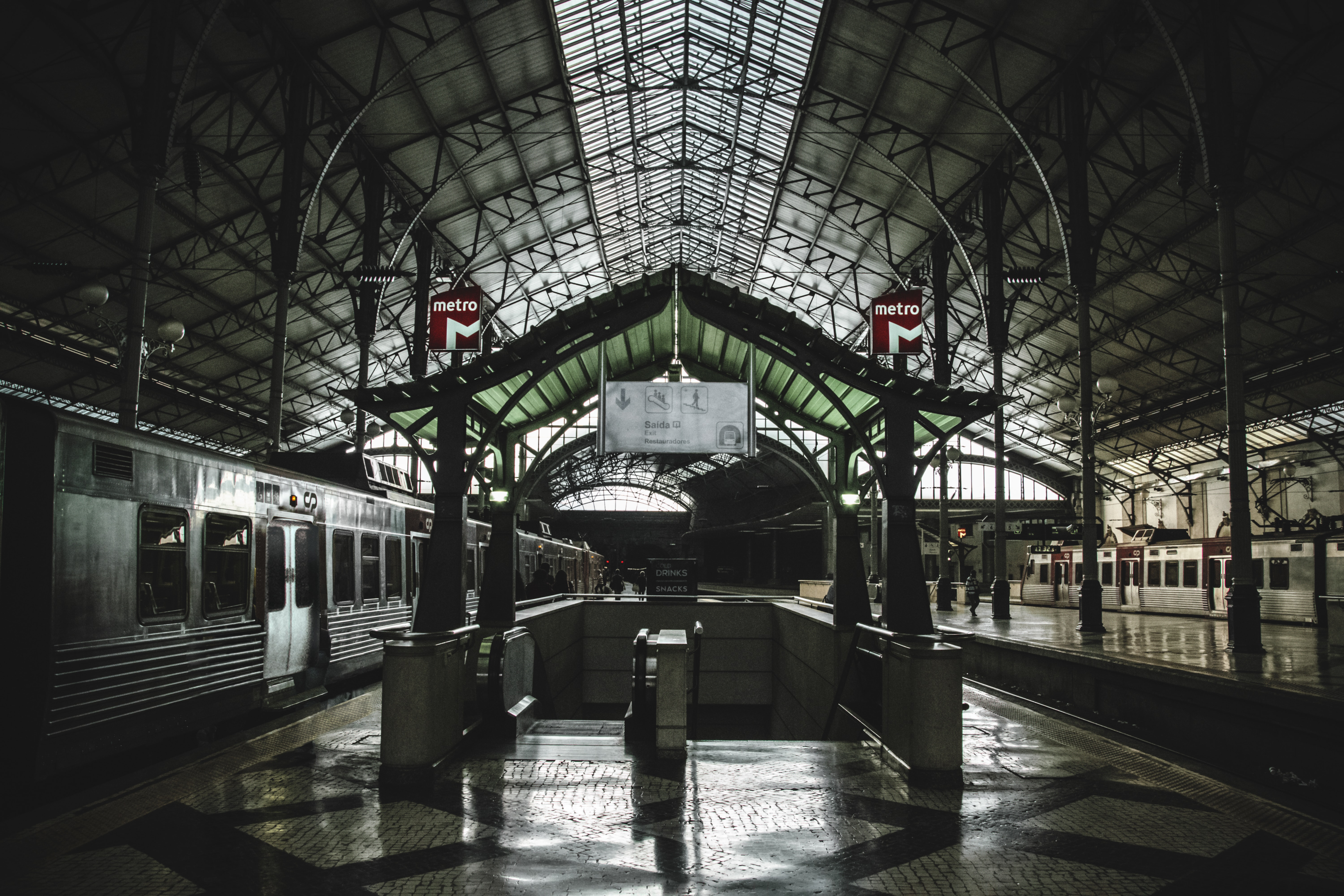 When visiting Portugal, you will find public transport is a very convenient way to get around. Sintra is easily reached by regular train services from Lisbon, start your day trip by boarding the train at Rossio train station.
The train trip from Lisbon to Sintra only takes about 40 minutes, so relax along the way and enjoy the view. No need to worry about when to get off the train, Sintra train station is the last stop.
This article may contain compensated links. Please read the disclaimer for more info.
Ticket Options for Visiting Sintra
When it comes to tickets you have several choices, here are my top picks for when visiting Lisbon from Sintra.
Tourist Train Ticket
Unlimited trips on the Sintra, Azambuja, Cascais, and Sado railway lines, for 24 hours (6€) or 72 hours (13.50€) after you begin your first trip. On this ticket, you can't begin a new train journey within 30 minutes of its expiry.
Lisboa Card
Unlimited travel within Lisbon City (metro, bus, tram, and funicular (Carris) lifts), and on the Azambuja, Sintra, and Cascais railway lines, as well as entry to museums and monuments.
Sintra Green Card
This ticket allows entry to the principal places of interest in Sintra.
Sintra Green Card (1): Includes train trips on the Sintra line (to/from Rossio, Santa Apolónia, and Oriente stations), the Scotturb 434 bus of the Pena Circuit, and entry to the Park and Pena Palace, Sintra Palace, and a museum of your choice. (€31)
Sintra Green Card (2): Includes train trips on the Sintra line (to/from Rossio, Santa Apolónia, and Oriente stations), the Scotturb 434 bus of the Pena Circuit, and entry to the Park and Pena Palace, Sintra Palace, Queluz Palace and a museum of your choice. (€39,50)
The museums that you can choose to visit with the Sintra Green Card are:
Natural History Museum
Ferreira de Castro Museum House
Anjos Teixeira Museum House
Leal da CâmaraMuseum House
MUSA
Note: Museums are closed on Mondays in Portugal.
The Sintra Green Cards are only valid on the day of purchase until the last train departs on the Sintra line. You can recharge them on the card Navegante (Viva Viagem), and are valid only for one person.
The Green cards also give you discounts on electric bike rental at Park&Bike in the Historical Center of Sintra.
Traveling Around Sintra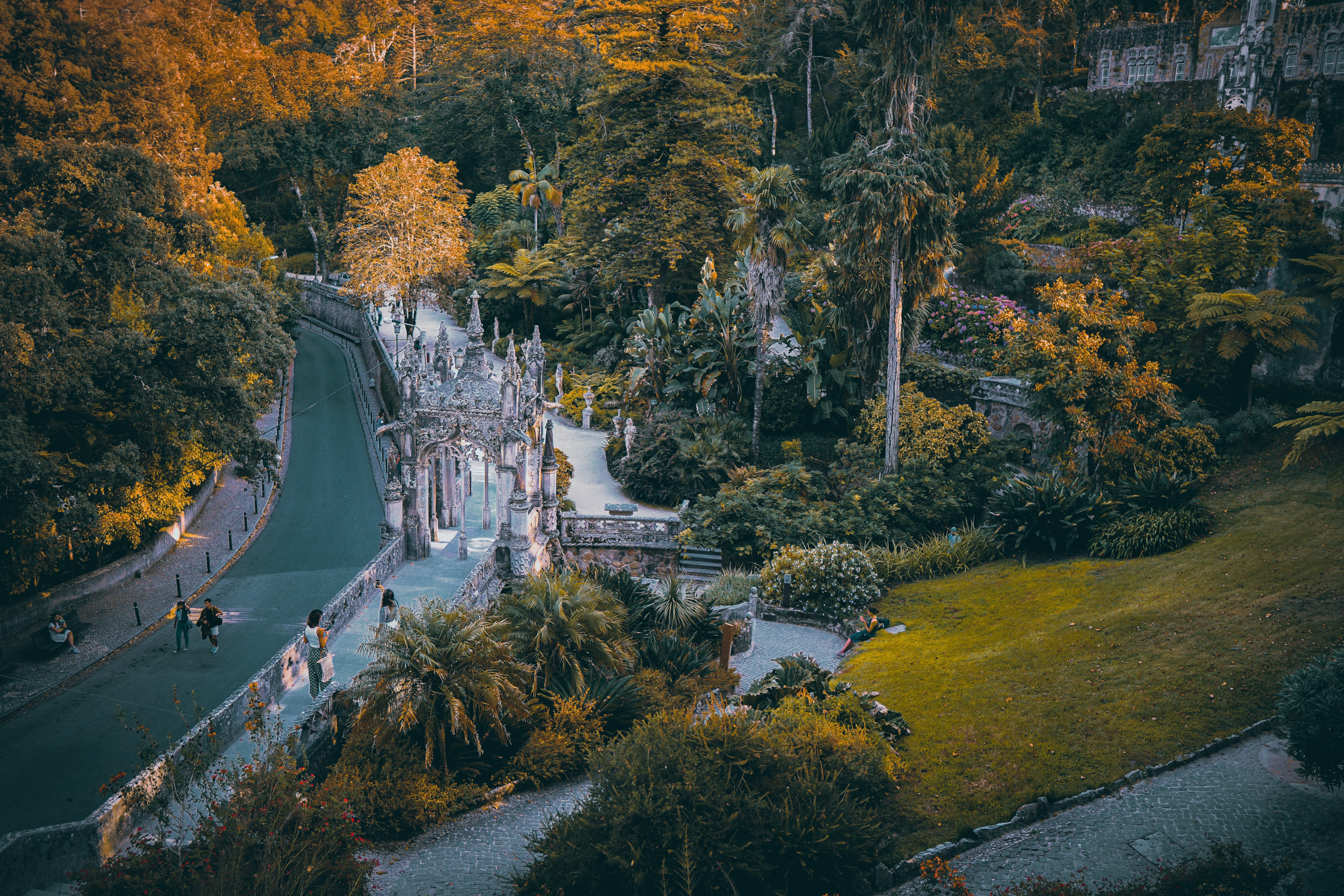 There are several ways for you to get around Sintra, including riding the Sintra tram, walking, renting a bike, hopping aboard the Scotturb bus, or choosing a day tour if your time in the city is limited.
For the full fairy-tale feeling, consider Sintratur, which will take you to visit the major attractions on a coach pulled by beautiful horses! You can even choose between a standard Sintra tour or a personalized Sintra itinerary.
For a more practical Sintra itinerary, I advise you to board the Scotturb bus which functions just like a tour bus but minus the guide and tour group!
There are several kinds of tickets you can purchase to get around Sintra by bus:
Hop on hop off buses – Purchase on their website and then board any bus at any time for 24 hours after you board your first bus (€ 11,00).
Villa Express 4 Palaces (Round-Trip) – Bus 435 takes you to Palácio da Vila, Palácio da Regaleira, Palácio Seteais and Palácio Monserrate (the ticket can be recharged on your Viva Card) (€ 5,00).
Pena Ticket 24hr All Bus – Valid for 24 hours, the ticket allows you to ride all of Sintra's buses, except those that go to Cascais.
Pena Circuit (Round-Trip) – Bus 434 takes you to the Moorish Castle, Pena Palace, Vila Palace and Parque da Liberdade. (€ 6,90)
Most tickets can be purchased from the bus driver, charged, or recharged using a Viva card or online (your ticket will be sent to your phone as a QR code) through the Scotturb website.
When visiting Sintra, you might also want to take the opportunity to visit Cabo da Roca, the most western point of the European continent, located at the extremity of Serra de Sintra. To go to Cabo de Roca you can take Bus 403 (€ 1,15).
A Perfect Sintra Day Trip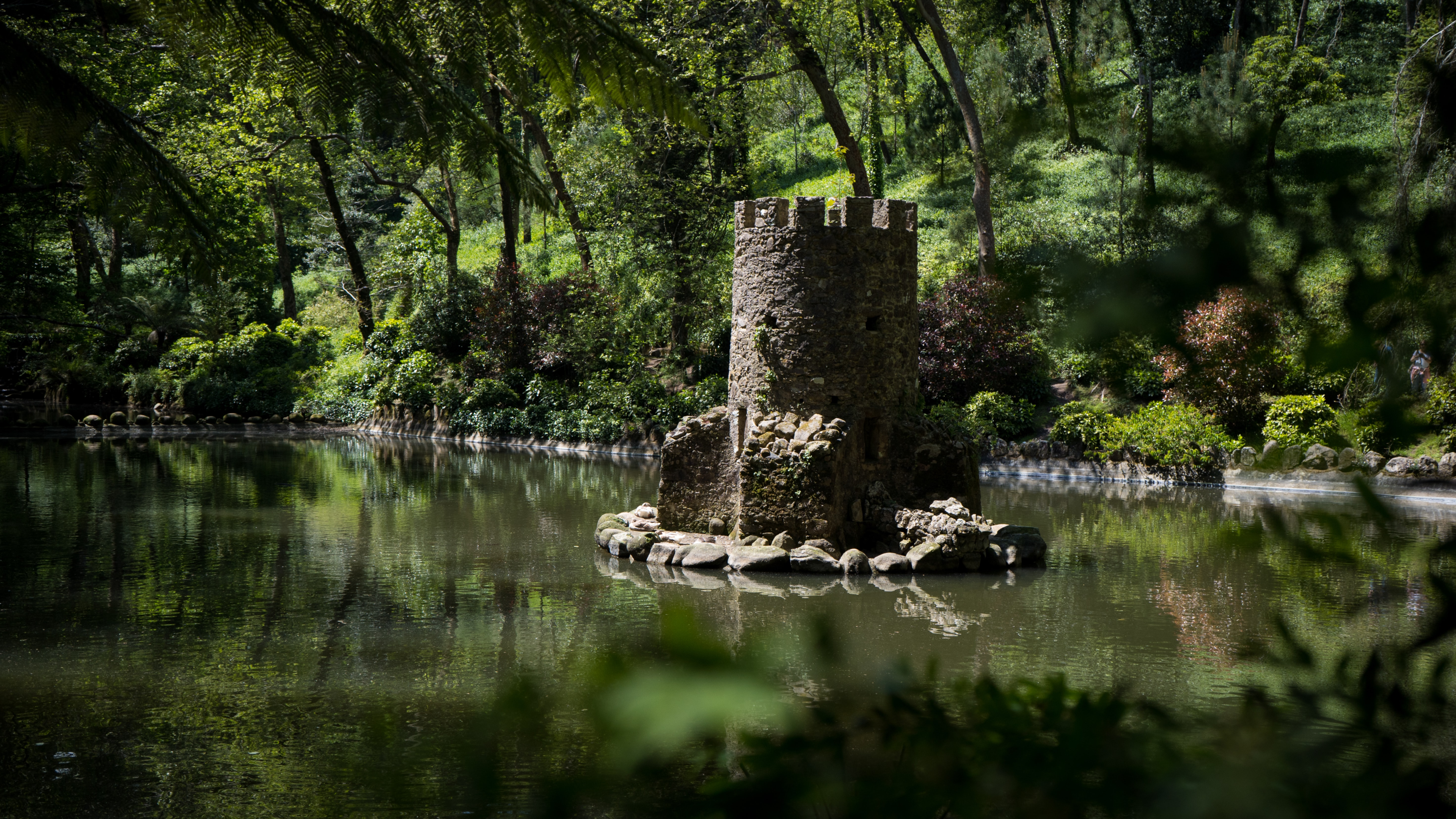 If you plan to visit Sintra on a day trip from Lisbon it's important to be organized. Sintra's major attractions are unfortunately not near each other or located in Sintra's historic center.
The most famous castles and royal palaces of this UNESCO World Heritage Site are very large structures that take more than a short walk to reach, and the steep foothills of the Sintra mountains.
This might make things a bit difficult (remember to wear practical clothes and comfortable walking shoes). Many have extensive parks and gardens as well. You won't want to miss Quinta de Regaleira's gardens or those of Pena Palace.
In Summer, especially, try to wake up bright and early and visit Sintra as early as possible. It gets crowded a little earlier as people try to avoid the heat of the day. Spring and Autumn are the ideal times for a trip to Sintra.
So for the sake of actually enjoying your day in Sintra, purchase your tickets in advance or you may face an enormous ticket line at each of the sites, especially at Pena Palace, Quinta da Regaleira, the Moorish castle, and Monserrate Palace.
At the very least Skip the line tickets for Pena Palace are well worth buying before you arrive.
Sintra Itinerary: A Day Trip to Sintra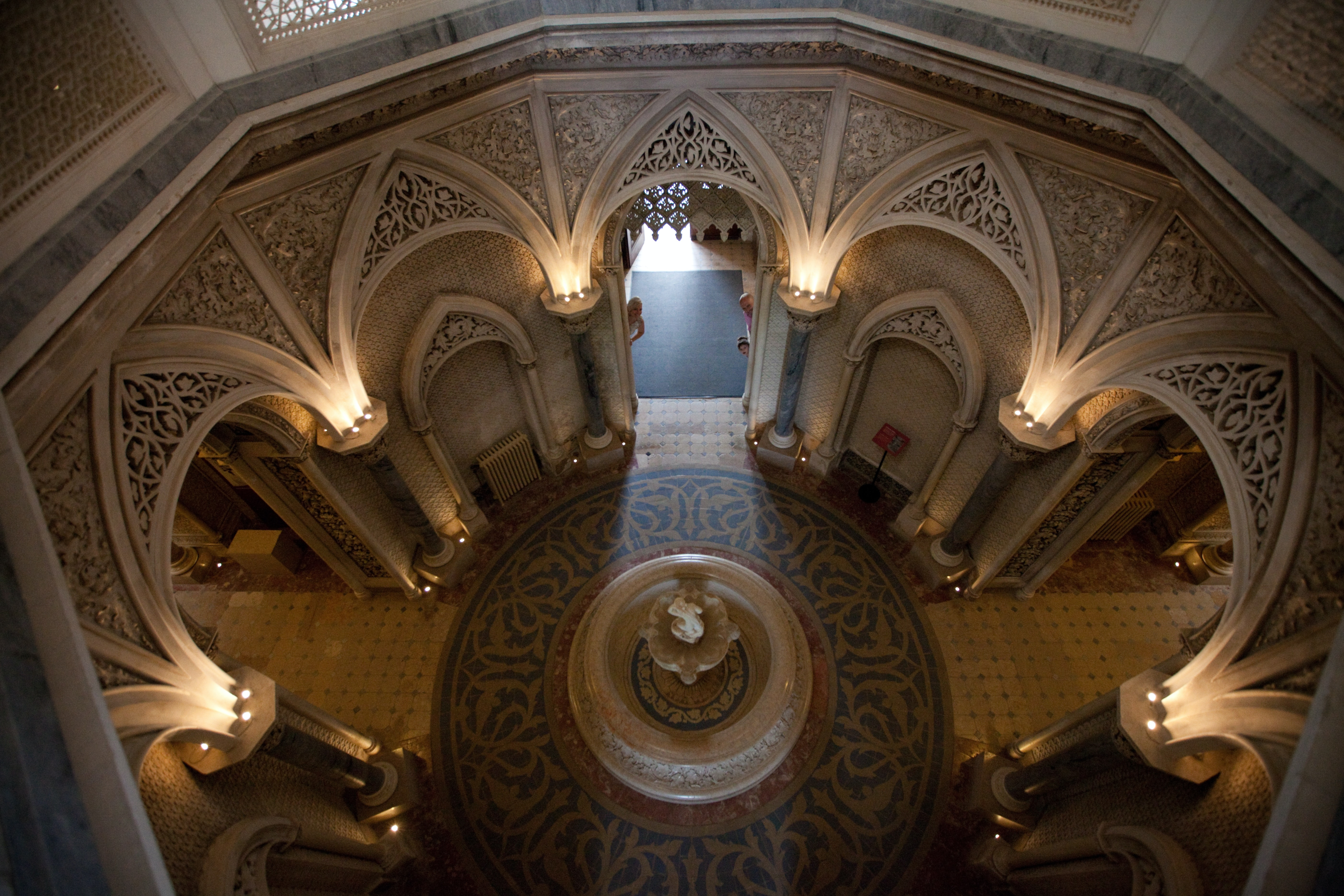 Start your day trip at the Sintra train station (this is especially convenient if you will first be traveling from Lisbon to Sintra).
Trains to Sintra depart from either Oriente (4 per hr) or Rossio (2 per hr) Services start at 6 am and continue until midnight or a little later. It's best to check the official site to plan your departure.
Once you reach Sintra you can catch the 434 Pena circuit bus (purchase a one-way trip). The earliest bus is at 9:30 am, if you haven't had breakfast yet, exit at the second stop "Sintra Vila".
Have your breakfast in the town center – try A Casa Piriquita, a pastry shop that sells the region's traditional pastries. A Casa Piriquita has served kings and queens in the past, and it is the perfect place for coffee and snack.
Walk around Sintra's historic city center as you make your way to hop again on Bus 434 (make sure to check the timetable at their website). You will visit the Moorish Castle next, so exit on the next stop, Castelo dos Mouros.
Hiking is a popular way to get between the castles and palaces. If you would like to hike we suggest taking the bus straight to the Pena Palace and walking back via the Moorish Castle to the historic center
Castelo dos Mouros (Moorish Castle)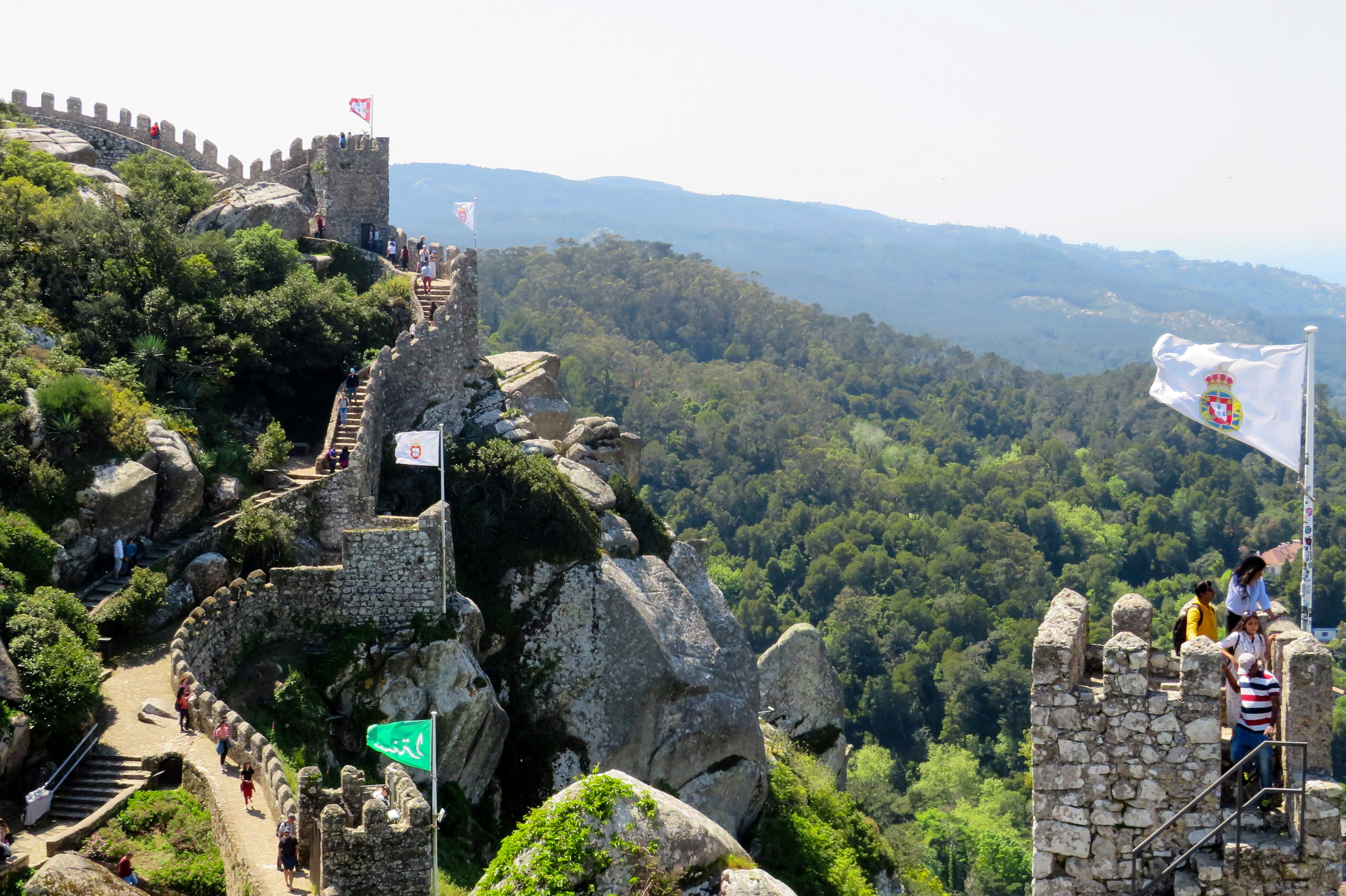 On one of the peaks in the Sintra Hills, the Moorish Castle is a fortification founded in the middle ages (10th century) when the Moors occupied the Iberian Peninsula.
Its walls snake across the hills interlinking boulders and cliffs, making it look like a part of the earth. From its parapet walk, you get stunning views over Sintra town, the Palace Pena, and, on the horizon, the green hills contrasting the Atlantic Ocean.
Inside Castelo dos Mouros walls, there are several points of interest, like the cistern, the silos, the second ring of walls, and more.
Opens every day from: 9:30 am – 8 pm (summer), 10 am-6 pm (winter)
Entrance fees: 8 Euros/6,50 Euros (6-17 years old and 65+ years old)
When you're ready to leave Castelo dos Mouros, walk to the bus stop and board Bus 434, and exit at the next stop, Palácio da Pena.
Palácio Nacional da Pena (Pena Palace)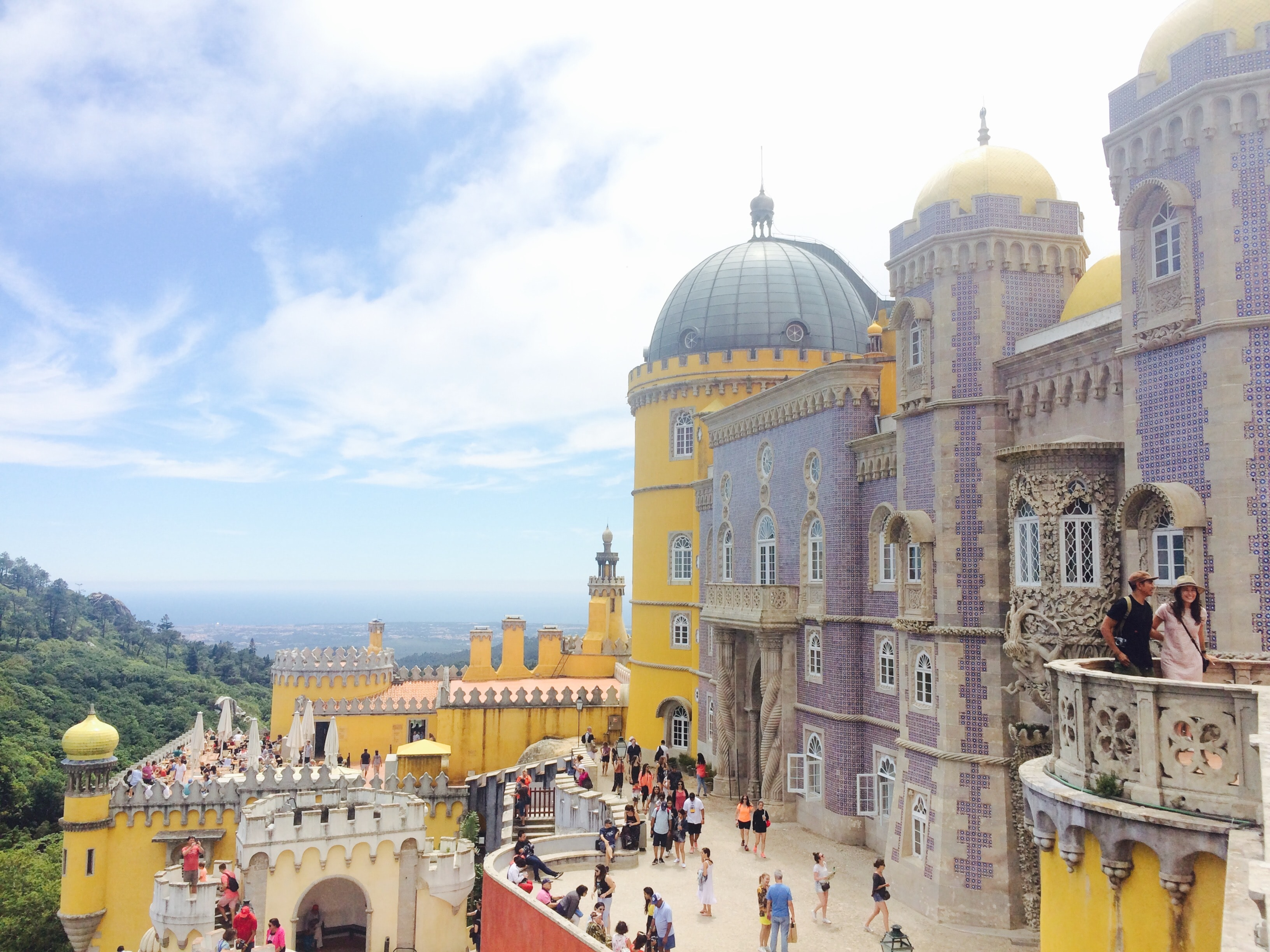 Built at the highest peak over Sintra town, Palácio Nacional da Pena is one of the most romantic places in Portugal. King Ferdinand II who was himself an artist, was the primary influence on the eccentric neo-Arab, neo-gothic, and neo-Manueline mesh of architecture that makes the unique Palácio da Pena.
It has stunningly decorated interiors. The colorful walls, ceilings, paintings, sculptures, and furniture will certainly impress you.
When exiting Pena Palace, don't miss visiting the beautiful Pena park with its fairy-tale-like gardens, woods, greenhouse, chapels, lakes, and caves. You can get lost in all the wonders that King Ferdinand II concocted, so make sure to know how much time you wish to spend here.
Although it's of course possible to create a Sintra itinerary that visits all the castles on a single day trip (as we've done in this article), some travelers choose to take a day tour from Lisbon and let someone else deal with the hassle of getting there.
On their next trip, they include the Moorish castle, Quinta da Regaliera, the National Palace, and Monserrate Palace.
But whether you visit Pena Palace on its own, or all of the great Sintra monuments on a day trip, just don't miss this colorful castle and its magical park gardens!
Pena Palace
Open every day: 9:45 am – 7 pm (summer), 10 am – 6 pm (winter)
Entrance fees: 14 Euros/12,50 Euros (6-17 years old and 65+ years old)
10% discount with LisboaCard
Quinta da Regaleira
No attraction in Sintra is more fun than Quinta da Regaleira and like Pena Palace, it just has to be on your day trip list.
With the help of the architect Luigi Manini, the patriarch António Augusto Carvalho Monteiro transformed the family's summer property into a private enchanted forest, mixing Greek mythology, Dante Alighieri, Camões, and Freemasonry.
Scattered — and most of the time, hidden — through the woods, you will find Greek deities, a neo-Gothic chapel, turrets, gardens, fountains, grottos, labyrinths, and underground passages. This makes Quinta da Regaleira an exciting place to discover by yourself and of course, for children!
The highlight of the visit is the route to the Initiation Well, an inverted tower, which sinks 27 meters below the earth.
More than in any other attraction in the city, the map offered at the ticket office is essential here. Yo. If you have time, however, it's best to get lost and then use the map to find yourself!
You can also tour inside the Palácio da Regaleira, but the biggest attraction is the attached café, which serves good snacks and quick dishes around a charming fountain. A great place to recharge and get back to the station — either on foot (25 minutes, downhill and flat) or with bus 435.
Quinta da Regaleira
Open daily: 9:30am to 7pm (summer), 10am – 5 pm (winter)
Entrance fees: 12 euros, 8 euros (6-17 years and 65+)
20% discount with LisboaCard
Now that you've finished visiting Quinta de Regaleira, Pena Palace, and the Moorish Castle, you must be famished! So hop on the 434 bus and exit at the next stop, "Sintra Vila".
In Sintra town, a good place to have your lunch is at Romaria de Baco, where they serve Portuguese cuisine, like codfish (Bacalhau), at reasonable prices.
After you have eaten your fill, it's onwards to visit Sintra National Palace, just a short walk away from Sintra Old town, the second last stop on your Sintra itinerary!
Palacio Nacional de Sintra (Sintra National Palace)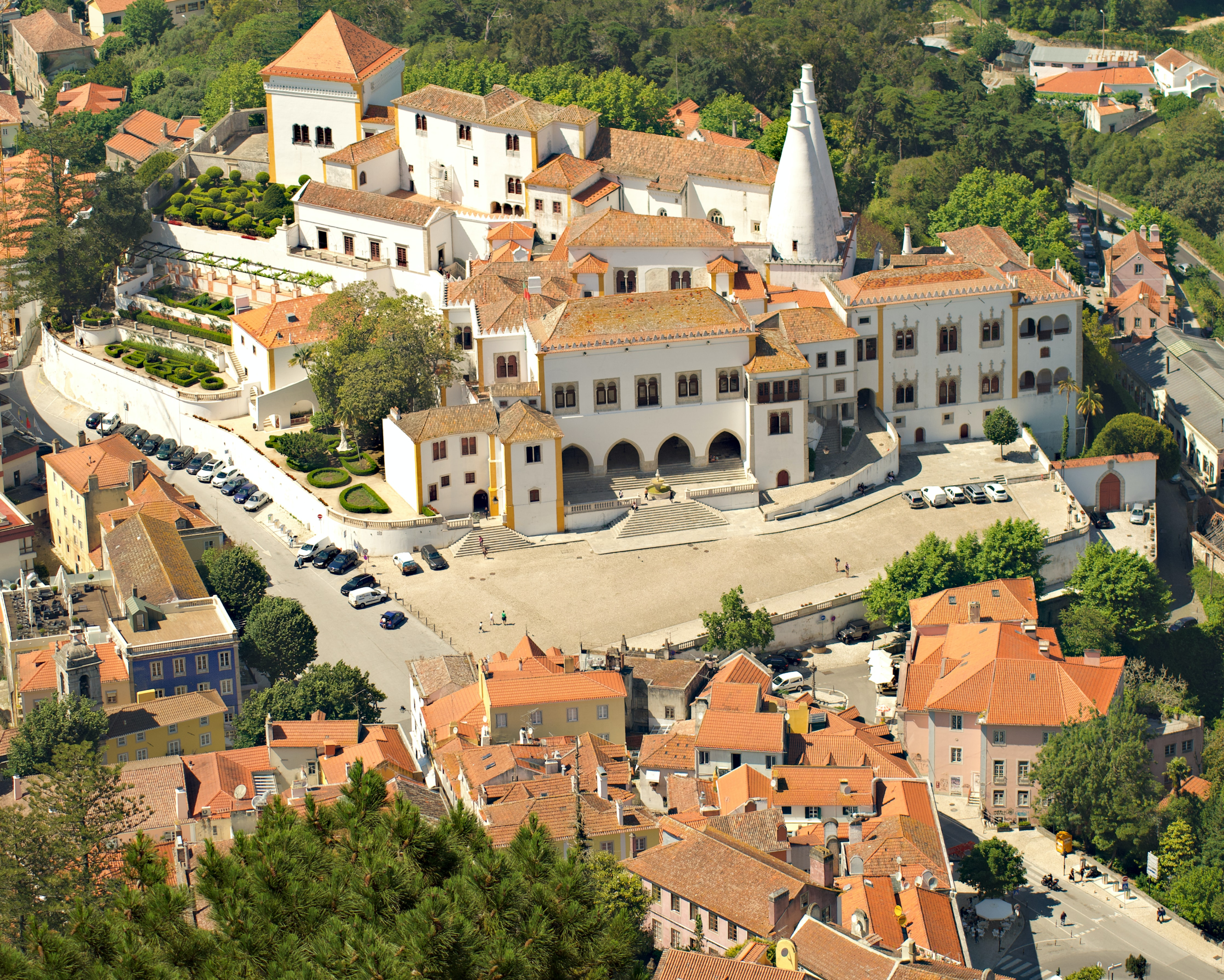 The Palácio da Vila is located in the city center, overlooking the valley. Its official name is more pompous: the National Palace of Sintra. The Arabian-inspired construction draws attention for its two conical white towers, which are nothing more than prosaic chimneys.
Sintra National Palace has operated since the 12th century as the residence of the Portuguese royal family summer palace.
In its various rooms, it presents architectural influences from various eras. The highlight is the Great Hall, known as the Swan Room, and the collection is the largest collection of Hispano-Moorish tiles, from Seville, which can be seen in Portugal.
Sintra National Palace schedule
Open: 9:30am – 7pm (summer), 9:30am -6pm (winter)
Entrance fees: 10 euros, 8.50 euros (6-17 years and 65+)
10% discount with LisboaCard
End your day trip to Sintra by going to Palácio de Monserrate, just a short walk from the historical center.
Palácio de Monserrate (Monserrate palace)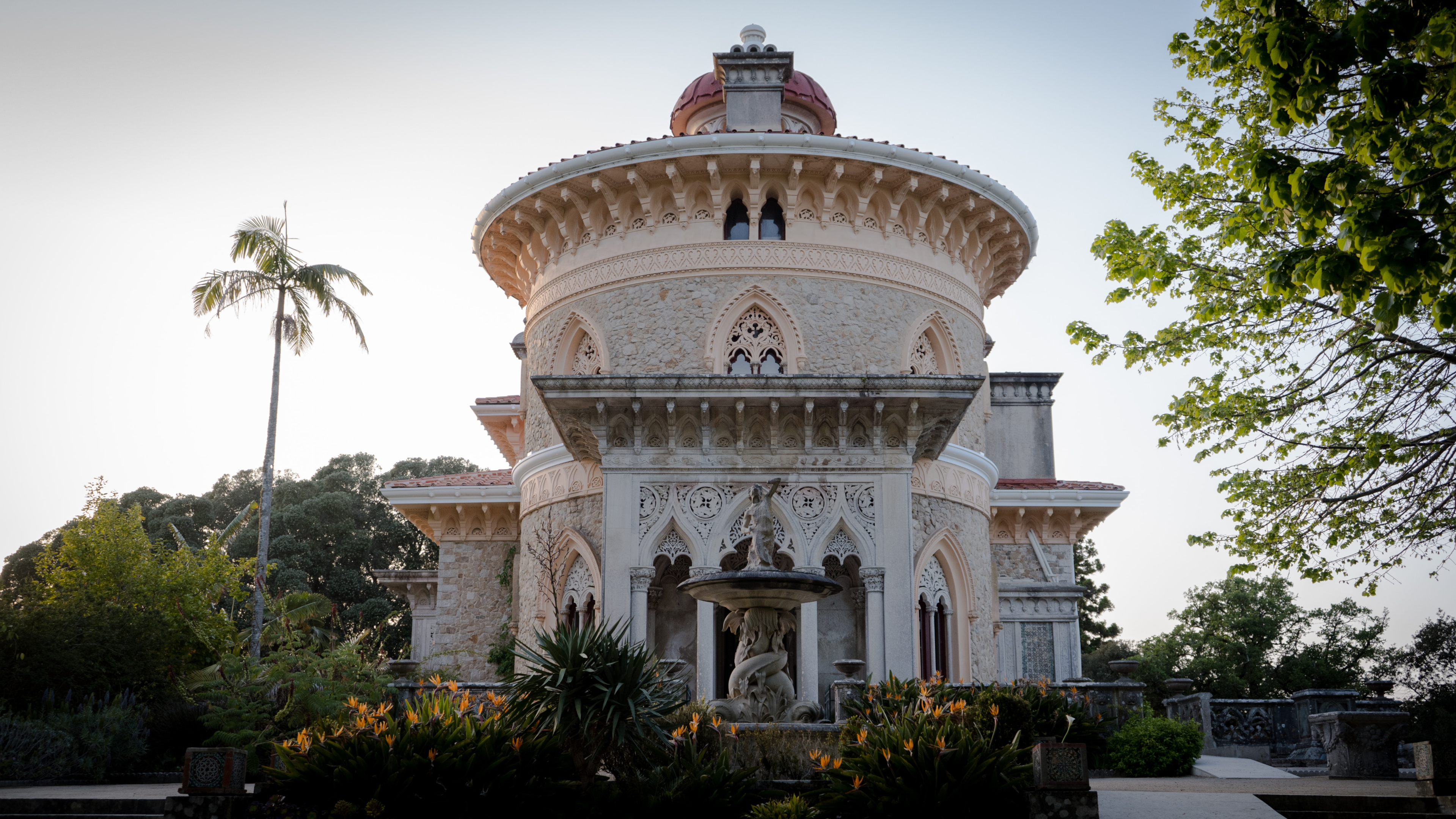 The Palace of Monserrate was built in 1856 as the summer residence of a wealthy English family, taking advantage of the ruins of a neo-Gothic mansion that already existed there. From the gate to the house, the visitor passes through ruins, a sarcophagus, waterfalls, and narrow paths.
The interior is very rich: the main atrium has high ceilings and an impressive dome. The library and music room are equally charming. Lord Byron visited Monserrate and spoke of the house in a poem, need I say more?
Palácio de Monserrate
Open: 9:30am – 8pm (summer), 10 am- 6 pm (winter)
Entrance fees: 8 euros, 6.50 euros (6-17 years and 65+)
15% discount with LisboaCard
Hope on a bus and in 15 minutes you will be back at Sintra train station!
Map of Your Sintra Day Trip
Discover More Sintra Trips