Easy to follow 3 Days in Lisbon Itinerary
Our 3 days in Lisbon itinerary is just long enough to help you discover the food, culture, and gorgeous miradors of Portugal's capital. With old-century architecture and a fascinating past, I can guarantee you will love Lisbon.
Despite it not being the biggest city, visiting Lisbon can easily fill a week-long itinerary, so before you depart it can help to schedule the best tours and decide which tourist attractions you want to see most in your 3 days in Lisbon.
To get you started, this three-day Lisbon itinerary has a bit of everything and is perfect for the first-time visitor.
Wait, so is 3 days in Lisbon enough?
If you move at a quick pace, then yes, it is just enough time to see all the top-rated Lisbon attractions, taste Portuguese delights like pastel de nata, and begin to love Lisbon, of course!
We think our 3 days in Lisbon itinerary covers all the important sights. As locals, we have added some travel tips and advice on where to find hidden gems during your stay.
Where to stay for a 3 days in Lisbon itinerary
Lisbon has lots of hotels and hostels – it's easy to find a perfect place for you to spend your days in Lisbon. You can also opt for Airbnb for your 3 days in Lisbon since it can be a more affordable and unique experience.
For 3 days in Lisbon, I would recommend you to stay in one of the following areas:
Baixa/Chiado – The city center of Lisbon, is an accessible but also historical and bustling area that suits all age groups.
Bairro Alto – Fast-paced, with its street art and bohemian crowd, it can be a brilliant choice for you if you enjoy partying and do not mind a noisy, slightly messy neighborhood.
Alfama district – There are a lot of options in this deeply cultural area, many of which can offer a river view. Keep in mind most buildings do not have a lift and you may have an uphill walk.
Avenida da Liberdade – Both luxury and boutique hotels, many of them four-star accommodations are available at more affordable prices in this part of the city.
Parque das Nacoes – A modern, clean, safe, and quiet district. Its proximity to the airport and public transport make reaching key sites quick and easy.
See our full guide on where to stay in Lisbon
Arriving in Lisbon and getting around
From Lisbon airport, getting to the city center is simple. The airport is the last stop of the red line metro, and the trip to the center will take about 45 minutes with one change at the S.Sebastião, a blue line metro station.
Traveling by the red line, you can also stop or hop off at the Oriente metro station, where you can catch a bus or train to anywhere in Portugal.
When you visit Lisbon, using public transport is a great way to get around, there are metro stations or other public transport options available for all the sites we have included in this 3 days in Lisbon itinerary.
To help you better enjoy your visit to Lisbon, we recommend you get a public transport card.
The best option is Viva Viagem card, it costs 0,50 EUR and you can recharge it when it runs out. It's valid for all methods of public transport or zapping (zapping allows you to board several times within an allotted time limit after card scan or validation). You can pick up a card from all metro stations, ticket booths, or machines.
You could also consider a Lisboa Card.
Day 1 – Alfama, Lisbon's oldest district
Lisbon's oldest district, the Alfama district, is known for its medieval-like narrow streets, typical tile roof houses, and atmospheric surroundings. Choose flat comfortable shoes when you visit the Alfama district since the streets are steep and slippery.
Sao Jorge Castle
Start your day trip by having breakfast on your way to Sao Jorge Castle at the Quase Cafe, they have a great variety of choices for your morning meal like fluffy cakes, fresh fruits, and more, you can also have your lunch here on your way down from Sao Jorge Castle.
If you want somewhere nearer Sao Jorge Castle, Mercearia Castelo is also a good choice, a hidden gem disguised as a coffee shop, when in reality you can delight yourself with an extensive brunch and lunch menu.
Recharged and full, make your way to São Jorge Castle, atop one of the seven hills of Lisbon. The castle is a location of fortifications from where, throughout history, the Portuguese defended Lisbon Portugal, from enemy forces. If you want to learn more about the history of São Jorge Castle it is always possible to take part in a walking tour.
Allow 1.5-2 hours to explore inside the castle and visit the camera obscura inside one of the towers.
All that up and down the São Jorge Castle walls probably made you a little peckish, if yes, then I would propose for you to eat lunch at Audrey's, a cafe, restaurant, and bar, that serves both Portuguese and international cuisine and is located just a few feet from Castelo Sao Jorge.
Where: Castelo de S. Jorge 1100º 129 Lisboa
When: 9am – 9pm (Mar-Oct) and 9am- 7pm (Nov-Feb)
Monastery Sao Vicente de Fora Lisbon
Afterward, or before lunch, if you still have the energy, visit Monastery Sao Vicente de Fora.
In the Monastery Sao Vicente de Fora, the paintings in the Sacristia are something not to miss, but what is also worthwhile is its terrace, from where you get a 360 panoramic view of Lisbon.
If you want to learn more about the Monastery of Sao Vicente de Fora, you can always opt for a walking tour.
Where: Largo de São Vicente, 1100-472 Lisboa
When: Tuesday to Sunday, 10 am-6 pm
Museum of Fado de Alfama
If you still have time, make a stop at the Museum of Fado de Alfama, and learn more about Lisbon's traditional music, Fado, its origins, and the important figures in the industry. Perfect preparation for the evening show we recommend you see tonight.
Where: Largo do Chafariz de Dentro, 1, 1100-139
When: Monday to Saturday, 10 am-6 pm
Catedral da Sé
Firstly built in 1147, Lisbon Cathedral is the oldest church in the city, surviving many earthquakes and decay over several centuries, it is a site to not miss with its mixed architectural styles resulting from several renovations and restorations over the years.
There is an entry fee (currently €4) to see the balcony and museum but otherwise, you can enter the main church for free.
Where: Largo da Sé, 1100-585 Lisboa,
When: Monday to Saturday, 9.30am-7pm (Wed & Sat 10am-6pm)
Miradouro de Santa Luzia
Finish the day at Miradouro de Santa Luzia, decorated with its traditional Portuguese white and blue tiles, a garden, and the water mirror, Miradouro de Santa Luzia is considered the most beautiful viewpoint of Lisbon.
Where: Largo Santa Luzia, 1100-487 Lisboa, Portugal
If you prefer someone to lead you around these sites try this walking tour.
After a busy day one of your Lisbon itinerary, it's time for a relaxing evening. My suggestion is for you to treat yourself to an unforgettable dinner and show of traditional fado music Parreirinha de Alfama, be sure to reserve a table around 9 pm since the live music show starts at 9:30 pm.
View our Guide to enjoying Fado in Lisbon and choose the perfect restaurant
Fado Tour and Show
If you prefer someone to show you the ropes, this tour with Cooltours Lisbon might be a good fit. Starting in Bairro Alto, which offers a huge number of Fado shows, you will eat some tapas, and learn about the genre from your guide. There you will head to Mouraria, which is where Severa, the first lady who sang Fado, was born.
You will also discover the Mozarabian district and its narrow streets, full of charm. The walk finishes with a tour and around the castle hill towards Alfama and you will have a diverse food tasting along with a Fado Show.
Read more about this tour.
Day 2: From Cais do Sodre to Alcantara to Belem
Hope you can wake up bright and early because Lisbon Day 2 will have you covering quite a bit of ground!
Cais do Sodre
If you depart from the Baixa district, you can be at Cais do Sodré in about ten minutes. Just in time for breakfast at the famous pink street. The ambiance of the street changes from morning to night. In the evening, it's busy and some still feel a bit rough around the edges.
In pink street, we suggest breakfast at Menina e Moça where they sell books and breakfast, lunch, or cocktails. Try the avocado toast!
Alternatively, head to the next street and eat your fill at Mercado da Ribeira or the Time Out Market (which opens at 10 am)
After you have eaten, it's time for another walk. Make your way to Cais do Sodre's urban beach, Praia das Naus or relax at São Paulo Square.
Alcântara
When you're finished at Cais do Sodré, move towards Alcântara. In Alcantara, you can have a unique experience; you can climb the pillar of the San Francisco Golden Gate bridge twin, the Ponte 25 de Abril!
The Golden Gate Bridge and Ponte 25 de Abril are often compared due to their similar style and color.
Once you have tired of the beautiful view from up Ponte 25 de Abril's pillar, it will probably be lunchtime, perfect timing for you to visit Lx Factory, a renovated textile factory where you can eat something delicious at Chef Nino, then have the world's most famous chocolate cake as your dessert in Landeau.
Even if you're not hungry, the Lx factory is still worth your time, either shopping or going for a concert or cultural gig.
Now that your stomach is full, how about heading towards the Belem district and spending your afternoon either at one of the beautiful open green parks, strolling alongside the river Tagus or walking to the top of the UNESCO World Heritage Site Belem Tower.
Jump on the tram to Belem. The ride on the No 15 tram is a 6km trip that takes about twenty minutes. If you prefer, you can take the bus (No 12) which stops right by the tower.
Belem Tower
You can choose to enjoy the tower from a distance or pay a small fee to climb to the top and take in the view.
There is a small collection of things to see as you make your way past the four floors to the roof. If you are planning to visit inside, it can be worth getting a ticket in advance as the lines can be pretty long at peak times.
Where: Av. Brasília, 1400-038 Lisboa
When: 10am-5.30pm – closed Mondays
There are many other worthy monuments in the Belem district, like Jeronimos Monastery, Padrão dos Descobrimentos or the National Museum of coaches, you could very well spend half (or the whole) day trip here if you'd like and not be bored.
Art lovers visiting Belem might like to check out:
National Palace of Belem
Museu de Arte, Arquitetura e Tecnologia
Pastéis de Belém
For a mid-afternoon snack, try the pastel de nata at Pastéis de Belém, where they still use the original recipe of 1837 to make pastel de nata.
If you enjoy learning about history and culture, you have the opportunity to book a walking tour for an overview of the Belem district or a specific walking tour for each of the monuments.
Where: Rua de Belem No 84 a 92, Lisbon
When: 8 am-9 pm every day
Afternoon sunset sailing trip
Instead of returning to the city via bus or tram, you could join an afternoon sunset tour. This one begins at the dock in Belem where you board the boat and head straight to Praca do Comercio.
From there, sail towards Belem and several historical and fashion monuments in Lisbon, such as the 25 de Abril Bridge, Cristo Rei, the Electricity Museum, the Belem Tower, the Discoveries Monument, and more.
Take in views of Lisbon from a different perspective while you relax on a 12-meter sailboat with a crew that is delighted to share their knowledge with you. Feel completely at home in the environment, perfect for anybody curious about sailing.
A Lisbon sunset sailing tour will be a true highlight of your visit to Portugal!
If you don't have your sea legs, we suggest you head back to the city center on the tram and plan dinner in Barrio Alto.
Barrio Alto Dinner
To finish your day, trip return to central Lisbon and have dinner at a Bairro Alto restaurant, perhaps at 10 de Maio.
Alternatively, make your way to Praça dos Restauradores where you can find a plethora of restaurants like Pinoquio.
If you'd rather have a more animated night, you can also opt to join Discover Lisbon's Nighttime Food and Wine Tasting Tour. Your guide will lead you through the streets, telling stories of the city and its gastronomy. Included is a variety of tapas and a selection of local wines. The tour is suitable for everyone but a great option for solo travelers who will enjoy being able to taste a variety of foods, which can be hard to do without a buddy to share them with.
Day Three – Parque das Nações to Avenida da Liberdade and the city
This morning we take the metro to Estacao do Oriente. When you exist, you will have arrived at Parque das Nações, the newest and most modern district of Lisbon. The train station itself is a very interesting building, designed by the Spanish architect Santiago Calatrava.
Eat: You can grab breakfast at A Padaria Portuguesa where you can select from a variety of cheap, healthy, and delicious meal sets, or go to D'Nata for a taste of Portuguese bakery.
You have a number of options here for how to spend your morning. We suggest a stroll along the riverside path. The walkway features modern art sculptures and fantastic views of the bridge and Nations Plaza.
Vasco da Gama Tower
At 145 meters high, this is the tallest building in Lisbon and has a panoramic view over the Tagus river. They have sadly closed the public viewing platform and it is now part of the Myriad Hotel.
If you have money to spare, consider lunch at Lisbon's tallest restaurant, Fifty Seconds, and choose any dish from its Michelin star-awarded menu. If that is not your thing, you have a great variety of restaurants at ground level, like Cantinho do Avillez.
Where: 1990-173 Lisbon, Portugal
When: View anytime.
Oceanário de Lisboa
Nest I suggest you visit the Oceanário de Lisboa (Lisbon's Aquarium), yes, I know, you probably have been to aquariums before, but I can proudly say this one is worth your time.
It is the biggest indoor aquarium in Europe. Over 25,000 fish reside in the two-floor layout arranged in four main areas around the central tank. Each area showcases four different habitats from all around the world: the North Atlantic rocky coast, the Antarctic coastal line, the Temperate Pacific kelp forests, and the Tropical Indian coral reefs.
This is another crowded ticket queue, so get your tickets in advance and skip the line.
Where: Esplanada Dom Carlos I s/nº, 1990-005 Lisboa
When: 10 am-7 pm every day
Telecabine
If you are planning to visit the aquarium, you can buy a combined ticket that includes a ride above the city on the Telecabine.
If you prefer, you can walk to Vasco da Gama shopping center, where you can find a lot of great restaurants serving Portuguese cuisine.
Make your way back into the city center and head to your next stop.
Avenida da Liberdade
Make your way to Avenida da Liberdade, the most important boulevard of Lisbon. In Avenida da Liberdade you can either do some window shopping or stroll about Parque Eduardo VII home of Lisbon's famous annual book fair
Along with fabulous views of the city and river, this 64-acre public park has a greenhouse packed with interesting plants from around the world.
Praça do Comércio
Afterward, leave for Baixa-Chiado, downtown Lisbon and make your way to the waterfront at Praça do Comércio.
Once a palace and the commercial center of the city today it is a meeting place popular with locals and visitors. Simply take in the view and atmosphere or perhaps book a ticket for the Lisboa Story Centre where in 60 minutes you can learn everything about the city.
Then take your time to walk along Rua Augusta, the street that connects Praça do Comércio (Commerce Square) to Rossio, and maybe buy some coffee or tea at Casa Macário.
Before you ride the Justa Lift, grab a coffee and pastel de nata from the nearby Fábrica da Nata in Rua Augusta or at the historical Confeitaria Nacional.
Elevador de Santa Justa
Turn down Rue de Santa Justa to the Elevator. The Gothic wrought-iron structure rises seven stories joining the Baixa streets with Largo do Carmo.
Built in 1902 the architect Raoul Mesnier du Ponsard, was a student of the man
responsible for the Tour Eiffel
If you have a daily transport ticket, riding the elevator is included in your ticket price, otherwise, it will cost you about (€5.15), Alternatively, you can take the stairs, a great idea if you have been consuming Pastel da nata all week!
At the top of the actual elevator, there is a viewing platform that is not included in the transport ticket, from here you can see the city center, the Castelo de Sao Jorge, Tagus River, and more. We feel it is worth the extra money (€1.50).
Where: R. do Ouro, 1150-060 Lisboa,
When: 7am-10,45pm
Carmo Convent Ruins
Destroyed in Lisbon's Great Earthquake of 1755 the Carmo Convent is a photographer's dream with interesting angles that work so well against a blue sky
There is a small museum that includes a mummy but for me, it was the building itself that was the star of the show.
Where: Largo do Carmo, 1200-092 Lisboa
When: 10 am-6 pm November to April and 10 am-7 pm the rest of the year.
From here, make your way to Rue Garrett in Chiado.
A Brasileira
An Art Nouveau beauty and one of the oldest cafes in Lisbon, A Brasileira was founded in 1905. The name translates as The Brazilian Lady Cafe. Grab a seat outside and spend some time people-watching or enjoying the classic interior to escape the weather.
You will find a bronze statue of Portuguese poet Fernando Pessoa, by sculptor Lagoa Henriques, outside the café.
Where: 120 Rua Garrett Chiado
When: 8 am till Midnight
Your last stop of the day is ahead. As you make your way along the route to Miradouro de Santa Catarina, you will pass Manteigaria Portuguese pastelería, one of the best pastel da nata bakeries.
You will also pass the famous street R. da Bica de Duarte Belo, where the tram travels up a very narrow passage and is one of the famous Instagram spots in Lisbon.
Miradouro de Santa Catarina
If the day is nearing its end and the sunset is due soon, hurry up to Miradouro de Santa Catarina, a popular atmospheric viewpoint to watch the sunset atop one of Lisbon's seven hills.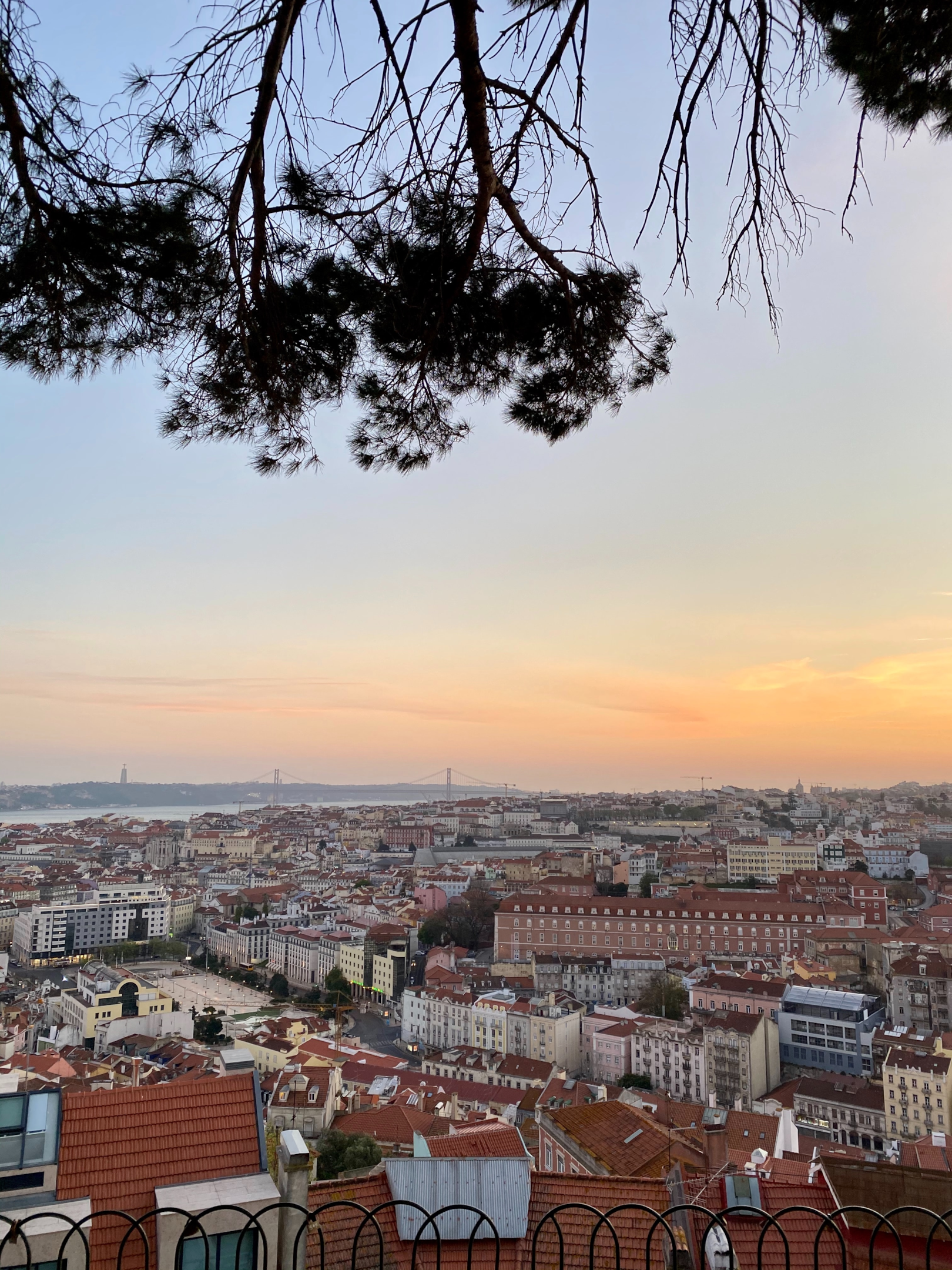 Where: R. do Ouro, 1150-060 Lisboa,
When: 7am-10,45pm
Night
We suggest you spend the last night in Bairro Alto where street art meets bohemian and eclectic bars and taverns. Here you can drink the fatigue away of your last day in Lisbon with a cool glass of sangria. If you enjoyed the Fado scene from day one you could hunt down some Fado bars, otherwise, some general bar hopping and eating some petiscos (snacks) is a great way to finish up.
We suggest Tasca do Chico, where you can either just have a glass and a few snacks or enjoy a full dinner, this place fills up quickly, so make sure to go early.
So there you have it, 3 days in Lisbon that will leave you with fond memories of this vibrant and historic city.
Find more tips for visiting Lisbon